ONLINE TRAINING IN DECORATIVE CONCRETE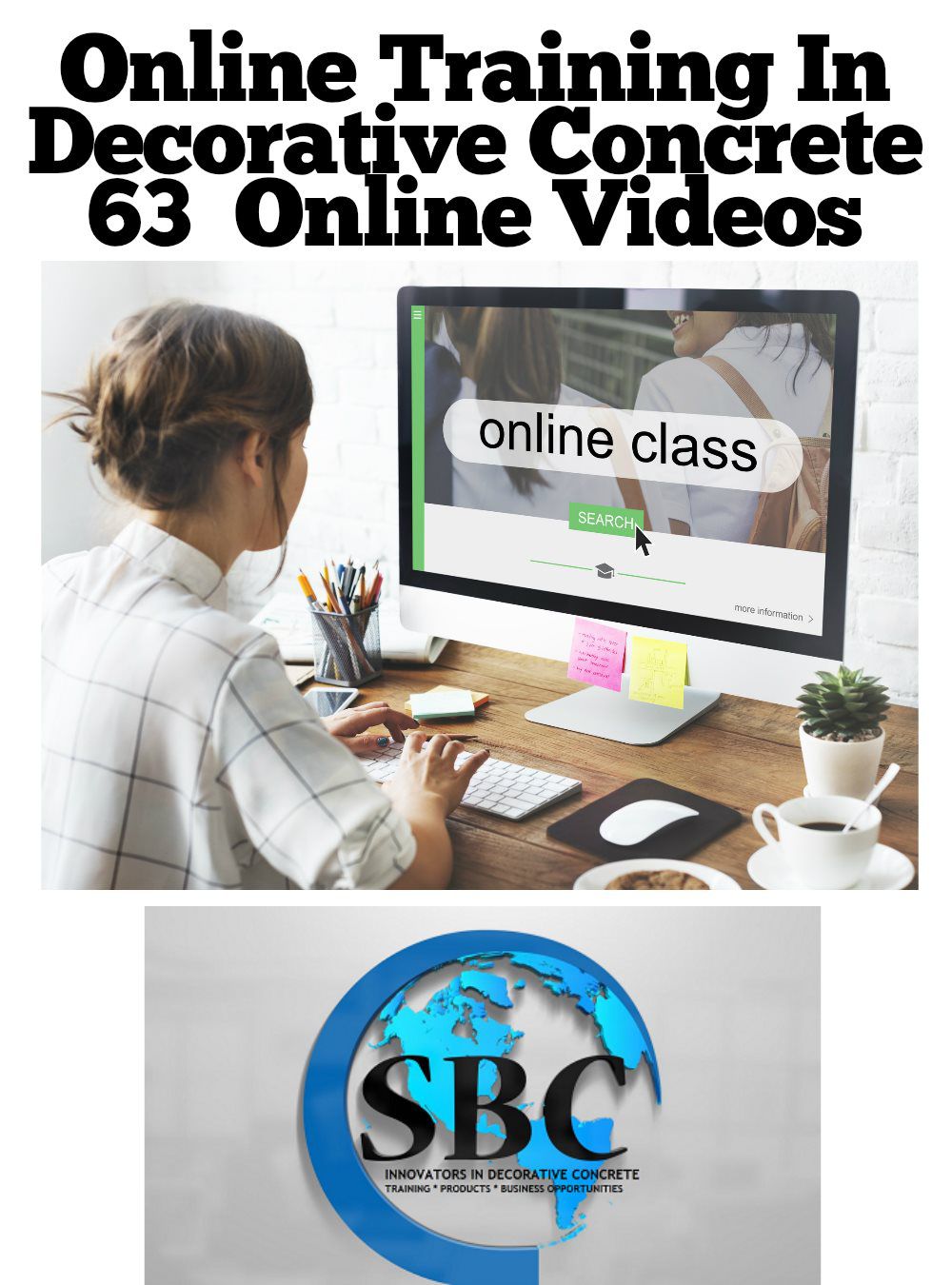 Our vision




is our




compass



See the difference we make



ONLINE VIDEO TRAINING IN DECORATIVE CONCRETE
DECORATIVE CONCRETE VIDEO COURSE
1
countertops
beautiful & beyond
2
flooring
not Your Everyday Flooring
3
Concrete sinks
definitely Set Apart
ONLINE TRAINING
24/7 VIDEO ACCESS
BASIC Online Video Course 
(This Does Not Include Phone Training Support)
Only $99.00 1 Time Payment
Includes SBC'S Original Pro Course On Video: (63 Videos) NOTE: THIS OPTION DOES NOT INCLUDE ONE-ON-ONE TRAINING SUPPORT WITH BRYAN GAUTHIER, OWNER OF SBC. 
* Countertops
* Flooring
* Sink Crete
* Advanced Color Techniques
* Water Walls
* Rock & Water Features
* Boulder Scape & Water Features
* Vertical Concrete
* Concrete Trees
THIS COURSE IS FOR "ANYONE" 
Especially DIY, Homeowner Projects & Those who cannot travel to Arizona to take a hands-on class. Training is approximately 9 1/2 hours of excellent thorough video training. After viewing all of the training you can then purchase materials to practice and complete your projects.  Edit Your Text Here
Products Such As SBC's Awarding Winning Concrete Panel Molds, Texture Rollers & Stamps, Countertop Forms and Specialized Epoxy Molds. SBC has been a Leading Product Manufacture, Supplier and Trainers In Decorative Concrete for decades & NOW You can be a part of SBC & Share the Profits!
FOR THOSE SERIOUS ABOUT STARTING & RUNNING A BUSINESS, "THE RIGHT WAY"
FOR THOSE SERIOUS ABOUT STARTING & RUNNING A BUSINESS, "THE RIGHT WAY"Whether your focus is part time or full time - this business is a lot of fun and rewarding. Train at your own pace and enjoy what you're doing on a day to day basis. Take days off to go play when you want them. How many people do you know that really make decent money and actually get the time off they need to enjoy the rewards of their money? "To me a lot of money is worthless if you can't have days off to use it to have a life."

The Entire System Is Explained in Easy-to-Understand Steps! Every aspect can be likened to "Paint by the Numbers" for making money with your own High End Business! Plus, here's how you can quickly earn back every cent of your investment and make a profit too!

Once you have practiced making samples and feel confident with a variety of winning finishes that you feel strongly enough to market, place your ads, and get the ball rolling. One job is all you need to cover your package cost and still make a hefty profit. The rest is daily fine tuning while you progress, and any new sales will start the excitement for what you can really make of your new schedule on a yearly basis!!!
WHO ARE MY CUSTOMERS GOING TO BE?
Primarily home owners and those with a new home under construction.
HOW MUCH INCOME CAN I MAKE IN A WEEK IF OFFERING ALL THE TRADES, AS TAUGHT IN THE BUSINESS PRO PACKAGE?
Conservatively, well over $4,000.00 per week working 4 to 6 hours a day with a 2-person team.
WHICH METHOD OF MARKETING IS THE MOST RELIABLE AND CONSIDERED THE BEST STARTING POINT?
In my opinion and by testing year after year, online or print classified ads are still the number one starting point method of reaching large amounts of people while allowing yourself to heavily target the range of travel you want to work within. Ads are a solid way of getting started and fill in the blanks throughout the year. YouTube videos with "Keyword Titles" and Home & Garden Trade Shows are the second fastest start up methods.

Travel saving TIP!!! Make samples of all the products you want to market and have them displayed at your home or office for others to see. By doing this you can save time sorting out the kind of curious shoppers from the serious shoppers who really want to get work done and are doing their due diligence to find out what their options are.

When potential customers call my office, I always listen to their needs and follow up explaining that most of the services we offer are charged by the square foot and if they know their measurements I can give them an exact cost over the phone. I also let them know that I will double check the measurements when I start the job. After that said I will also let them know that the best thing is for them to stop by my showroom so they can see exactly what all the finishes look like. At this point of a conversation I can usually tell whether the person is slightly curious verses really wanting to get work done and just not 100% sure of what they want it to look like. Once I have explained the showroom process, I also let them know that once they see all the finishes it will be a lot easier for me to stop by their house to make my recommendations. Once I look at their surrounding colors I can make my recommendations based off the patterns they liked at my showroom. By looking at their surrounding colors I can fine tune a pattern that they like by adding the perfect variety of colors to flow with what they have.

For those starting out there's two ways of looking at going out for a free estimate when every phone call comes in. By doing so it's not likely that every estimate will lead to the close of a sale, but over the long haul you will get extra work because some of the curious shoppers may get to a point where they really are ready or in the mean time they simply refer you to a friend because they liked your personality and your courtesy in sincerely trying to help them.
WHAT OTHER MEANS OF ADVERTISING HAS BEEN EFFECTIVE FOR GROWING THIS BUSINESS?
After Classified Ads my number one success for growth has always been existing customers (word of mouth). For long term success, this should always be your number one focus!

The second best means of marketing for this business is Trade Shows. In Phoenix, there are a lot of shows throughout the year but there are three solid shows put on by Maricopa Home and Garden Shows that I advertise in. These three shows bring in more than enough work for myself and the contractors who purchase materials from me. Trade Shows are effective for many reasons. First, it allows for you to bring a mini show room to the people, and it allows the people to get to know you and your traits first hand.

If you create a display that shows quality work and is better than what other competitors are offering your work will speak for itself. (Having a top-notch display is doable, even for starters.) One thing I do, even to this day is observe and consider those advertising at every show and throughout the world. By doing this I know what's new and what's a winning look or not. Then I can gauge my own efforts on how much farther ahead I must push in creating newer, neater, and better overall finishes staying a comfortable step ahead.

If you create a display and samples of your work with cleanness and quality, people will be attracted and impressed, and want to find out more. As they look to you for information this is really your chance to instill in their minds of important reasons other than just your talents of why they should consider choosing you to spend their money with.
Helpful tip to grow your business with less advertising cost: The day I quit focusing on mass production and getting through as many jobs as possible in a year, verses creating a solid friendship on each job has been night and day in our business. By creating friendships, customers have more appreciation for my efforts and, also get to know what I'm about on a more personable level, even the direction I am aiming at with my business. Through the years, I have been blessed with talents to do many kinds of projects, but trying to do everything makes it harder to stay organized and efficient day to day. A friend is more likely to consider what type of word of mouth advertising will be helpful rather than a distraction.
As you grow your own business you will also be able to place your own value system on what niches are the most profitable and enjoyable for you to be the most efficient at. 
When people are shopping for a service to be done they have a few major concerns. Finding someone they can be confident in to do quality work at a reasonable price and someone who is trustworthy to do and be what they say. If you're serious about making people your friend even before they're your customer, then you will have separated yourself from the masses. If you're sincere in wanting to be helpful to others, everything falls into place and without all the headaches that are associated with those focused on just making money.
Most people will pick up instantly on the hard-core salesman mentality verses someone who is selling but actually sees them as more than just a sale. I liken this point to a quote about materialism in one of my books Calculated Life Planning & Goal Setting. "GOODS AND BADS OF MATERIALISM: in attaining possessions, it's o.k. if the things you get are used to enjoy life and love people. It's not o.k. if you lose your concern for people and start using people just so that you can love things." By mastering this principle, you will also save a lot of time running all over town doing estimates. People attending Trade Shows will speak to a lot of advertisers and even so, they will have narrowed their choices down based just on personalities. By the end of a show people have a decent idea of what I'm about or not about.

Trade Shows ARE A MUST, if you hope to make sales to home owners, business owners and picking up helpful marketers such as Landscapers, Home Builders, and many other businesses. One very important advertising tool is your website, if you do not have one, we now have the best available for all Pro Students. CALL FOR MORE INFO - 800-324-1719 EXT. 202
WHAT ABOUT BUSINESS LICENSING AND ALL THE TECHNICAL ASPECTS OF RUNNING A BUSINESS LEGALLY?
My Home Study Course, Becoming an Entrepreneur covers every process for starting, developing, and running any business. Legalities are much easier than most would think. Most businesses can be set up with in one day.
HOW IS THIS BUSINESS PACKAGE BENEFICIAL COMPARED TO ANY OTHER BUSINESS PACKAGES?
The most important factor is that of all the services I have done through the years. It's a Niche Business. Uniqueness, in demand, efficient in drastically lowering labor times, learnable and duplicate able, and conservatively more profitable and realistic than common business packages that usually are too well known and over saturated with competition. This package is not known nor will be known of by the masses. Our only means of advertising for this and other business packages is the Internet & Trade Shows, primarily to people who are ready to start their own business or achieve in house manufacturing for their existing business.
WHY WOULD YOU OFFER THESE TRADES TO OTHERS RATHER THAN JUST DOING THEM YOURSELF?
At this stage in our business we have multiple thousand dollar trails that work locally and worldwide by offering everything we do in Arizona to people elsewhere. And the great thing about everything we offer is that none of them are pie in the sky get rich without any work opportunities, but rather realistic and proven trades that I have worked very hard at in making learnable and duplicate able for others. Multiplication works better than addition! This is a solid business that works best on a local level. In one of my books I have a chapter titled: Money Trails. I explain the differences between penny trails, dollar trails, 100 dollar, 1,000 dollar and 2,500 dollar trails. Some people may spend 8 hours a day picking up 10,000 pennies, also consumed with total concentration which may blind us from seeing other trails with less bending over and less hours to equal more money in a day. For example, while pennies are being picked up, others may be spending 5 hours picking up dollars. Also, consider that instead of picking up a penny every step, one can pick up a dollar every 100 steps which allows more freedom to see and consider larger scenario's, such as what this business is, a thousand-dollar trail.
SHOULD I QUIT MY JOB AND TAKE A CHANCE WITH THIS OR OTHER OPPORTUNITIES YOU OFFER AS MY NEW MEANS OF INCOME?
No, think Temporary Saturday Sacrifices. Prior to starting my first business at 19 I worked 40 to 60 hours a week for a high production concrete company. Not to long after word got out of what I did for work I soon found myself doing side jobs on Saturdays and making more money in one day than all the other hours in the week. Despite negativity from coworkers against starting my own business, I pressed forward because in my mind it made more sense to make more in one day and have all the extra breathing space to handle any of the negativity the nay Sayers predicted would happen, if I tried.

So as with my story, the safest way in my opinion, to make a transition from the 40 hour or more weeks is to establish what you want to do full time into a consistent flow of weekend successes unto the point that full time makes sense. If you're not afraid of a little manual labor hat pays well this Business Pro Package will help recession proof your income with diversity. As you grow your business you will also be able to narrow your services down to just your most Favorite & Profitable NICHES. By this I'm reminded of fishing, some use one pole to fish and that's normal, myself I like to use two just for upping the odds. Plus, using different baits help when emotions change. To a fish, a worm may have sounded delicious yesterday, but unless it finds someone offering corn today it's not buy-ting.
Two Inspirational Books written by Bryan Gauthier (Owner of SBC) are Included in all Training Courses...(nothing to do with Concrete, but you will most definitely be "INSPIRED" by both Books.
Home Study Course By Something Better Institute Becoming An Entrepreneur A $25.00 Value 
Read Becoming An Entrepreneur and Learn:
How to build solid foundations for Good Success and establishing Life Goals
• How to develop an income that will always increase by using the money trail techniques
• How to locate Raw Materials, Manufacturers, Wholesalers, Products World Wide, etc. 
• How to choose a business name, preparing your business plan, business structures, licensing, accounting, product development and test runs. 
• Crucial business resources, government publications, free business counseling, copyrights, trademarks, and patents. 
• Ins and outs of marketing techniques such as classified ads, trade shows, using the internet, magazines, mail order houses, department stores, chain stores, sales reps, radio, TV, etc. 
• Helpful retail terminology, 110 business ideas, importing and much more! 
This course is a necessity for those serious about lasting in a profitable business. There's's far too much information to memorize in this course, but the key is to have the answers accessible when you need it. This course will keep you moving forward when you run into those time consuming road blocks, which most times are often just a small lack of key information of what to do and where to go next. 
Bonus #3 ---Home Study Course By Something Better Institute Calculated Life Planning A $15.00 Value
Read Calculated Life Planning & Goal Setting to Learn :
How to discover what really is the best and most appropriate path for your life; along with unveiling the best and most appropriate means of achieving it.

How to pinpoint contentment levels for every area of your life in order to create the exact lifestyle you want.

How to develop an income that always increases by using the money trail techniques.

110 of the most important principles to bring you great success.

How to measure values and create a personal scoring system for making the best decisions pertaining to the choices you face daily.

12 personalized teachings for achieving balance in every area of life. And much more.
Good Success can only be assured when we learn to use our tools. Words in the form of quotes, insights and principles are the tools we need to achieve Good Success. If we have them memorized we will then be able to act upon them at any given moment that a situation may present itself or require a decision to take action. Knowing accurate principles ahead of time equips us with the ability to make the right choices and at the right times. "If today you are willing to do what most won't, someday soon you'll see what most can't."
"Bryan's books are a gift for anybody looking for a better life. His knowledge is incredible and his words- inspiring." Heidi Winant- Sanchez
"Bryan, I attended your High –End Concrete Workshop in July. I was looking forward to attending your workshop to increase my skills for home & job applications. I have 40+ years of experience in the construction field, but have never really touched on this or anything like it before. I enjoyed learning about all the various techniques of concrete designs. Your instruction was very informative. I look forward to using the applications from your workshop. You are very motivational and sincere about what you do! I have and will definitely recommend this class!"
Terry R. Grant – South Mountain Community College
IF YOU DECIDED NOT TO BUY CLICK HERE!
"Integrity, Quality, Creativity and Innovative. These are the Traits of Bryan Gauthier and they are reflected in his products."
The Late, Rod Padilla, Phoenix Arizona